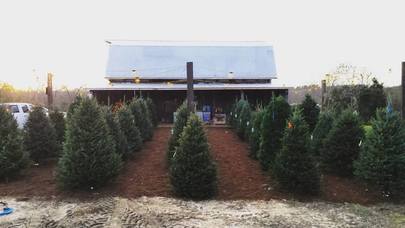 2015 was our first year providing the Greensboro and High Point area with beautiful Christmas trees from the NC mountains, but our experience with growing trees goes back to 2003 when we began working with our close family friend, Randy Maness, on his farm in West Jefferson.
​
Each Year we select only the best Fraser Firs and White Pines from West Jefferson NC to bring to our farm here in Greensboro. Each tree is fresh, beautiful and ready for your home.

2015 marked the first year of planting our own Choose and Cut plantation here on Hickory Creek Farm. We have a variety of trees planted including White Pine, Leyland Cypress, and Red Cedar. All are perfect for this area of North Carolina. We are looking forward to having trees ready to cut in the coming years.
---
Along with fresh cut trees, we will also have all the handmade wreaths, roping and other accessories for your home or business
Hickory Creek Farm will be open this year beginning November 23rd from 10AM until 8PM. (Sundays 1-8)
Please come out and enjoy an afternoon on the farm
#visitncfarms